Oyster Internet HDTV Satellite System
Oyster Internet HDTV Satellite System
Brand:
Oyster
Product Code:
Oyster HDTV Internet
Oyster® Internet HDTV
The Oyster® Internet HDTV offers simple operation with fully automatic connectivity. It provides both internet access with Broadband speeds as well as first class TV reception.
Oyster® Internet HDTV – Broadband internet and TV reception for motorhomes
The two-way technology facilitates web surfing and emailing throughout Europe. With the Oyster® Internet HDTV, ten Haaft have integrated Internet and TV reception into one single system. At the touch of a button, the intelligent system begins searching for the desired satellite. The system will automatically lock on to either the TV Satellite or the internet satellite (typically ASTRA 3) as defined by the user. Changing the function between TV and internet is also as simple as touching a button. Dependable, Europe wide internet service and individual contracts are offered from the service providers. The sending of emails or surfing the web is no longer restricted thanks to the comfortable technology of the mobile internet system. Telephoning via the internet is also made possible - independent of any mobile phone network. All the communication comforts of home on the move. Thanks to the 85 cm parabolic antenna, your favourite TV or radio channels can be enjoyed.
Two-way technology

A contract with an internet service providers (ISP), e. g. IP copter or Broadband Everywhere is required to enable the broadband function. The range is set by the ISP. Tariffs and charges are available at:
Most Popular ISP's others are available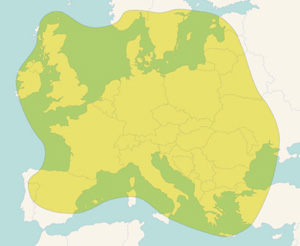 www.broadbandeverywhere.co.uk (yellow footprint image above)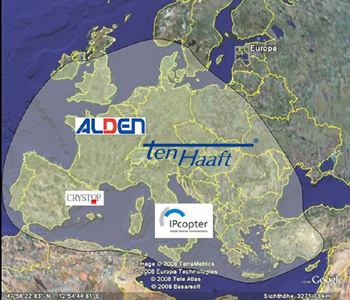 www.ipcopter.com (green/blue/grey footprint image above)
HD receiver "Europe"
Designed for customers for whom an easy to operate, integrated HD receiver with full functionality is an absolute must. Reception of all free to air HD channels. Further to 5.000 presets for radio and TV channels, the receiver comes with HDMI, USB, Phono and headphone ports,
Innovative swivel-head technology
Only the head of the antenna rotates. The antenna body remains fixed which has many advantages:
• Reduced power consumption
• Lower space requirement
• Optimised mechanical load



Oyster® Internet HDTV

Dish dimensions

Ø 85 cm

Height

~ 23 cm

Weight of top unit

~ 13 kg

Weight of installation material and equipment

~ 5,5 kg

Fully automatic aiming

✓

Supply Voltage (Volt)

12 V - 24 V

Max. power consumption during satellite-tracking

8 A

Power consumption during receiving

3 A (internet operating)
800 mA (TV-operating,
modem off)

Power consumption standby (operation)

10 mA / 0 mA