Fiamma Zip Awnings

The Fiamma Zip is the only awning complete with front and side panels and zip fasteners. The product is complete with awning and privacy (one front panel and two side panels), the two products are joined together with zippers that allow an easy and quick installation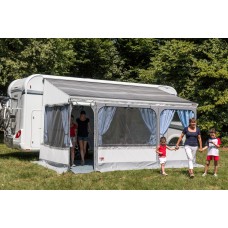 The only automatic awning complete with front and side panels and ZIP fastenersThe product is comple..
Showing 1 to 1 of 1 (1 Pages)
Fiamma Zip Awnings installation
Rhino Installs supplied and fitted Fiamma Zip Awnings for your motorhome or campervan.
The innovative Fiamma ZIP system joins the side panels to the fabric of the awning with two special sturdy zippers. If you require the awning can be transformed into a complete enclosure, technically doubling your living space. Now even more functional and elegant, thanks to the restyling. The new look Zip Awning benefits from widened windows, rounded contours and the insertion of grey tones, these improvements make the Zip Awning more stylish and modern.
If you already have an Fiamma Zip Awning we can fit yours for you. Please contact us and we will be happy to help.
Fiamma Zip Awnings Installations carried out by ourselves. Click here for pictures of our Zip awning installs.
Or Buy Fiamma Zip Awnings online now by clicking our supplied and fitted product above