Fiamma Zip Awning - 3.0m to 4.5m
Fiamma Zip Awning - 3.0m to 4.5m
The only automatic awning complete with front and side panels and ZIP fasteners
The product is complete with awning and privacy (one front panel and two side panels), the two products are joined together with zippers that allow an easy and quick installation
The innovative Fiamma ZIP system joins the side panels to the fabric of the awning with two special sturdy zippers. In a few instants the awning can be transformed into a complete enclosure, doubling your living space. Now more functional and elegant, thanks to the restyling. The new look benefits from widened windows, rounded contours and the insertion of grey tones, these improvements make the product more stylish and modern.
Delivered as standard with
• 1x awning (based on F45s/L)
• 3x installation brackets (Kit AS)
• 1x front panel with door and window with mosquito net
• 2x side panels with windows with mosquito net
• 1x central tension rafter
• 1x Rapid Set installation kit (2+2 aluminium tension poles)
• 1x vehicle skirting
• 1 x kit elastic hooks for secure fixing
• 1x storage bag Mega Bag 140x27x40cm.
Selection guide
Awning Fiamma ZIP is based on F45 awnings.
Canopy has a ZIP system allowing a fast installation.
Windows Front and side panels are composed of openable Crystal windows equipped with mosquito net. High velcro layer for a safe closing of the window.
Structure Aluminium Rapid Set poles, tension Rafter. The anti-wind support Magic Privacy is optionally available for perfect stability of the enclosure.
Front Panel Front panels are interchangeable. This means that door and window can be mounted on either the left hand side or on the right hand side.

Fiamma ZIP S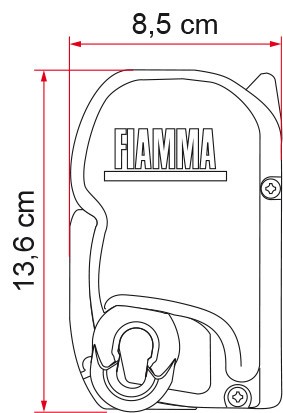 Fiamma ZIP L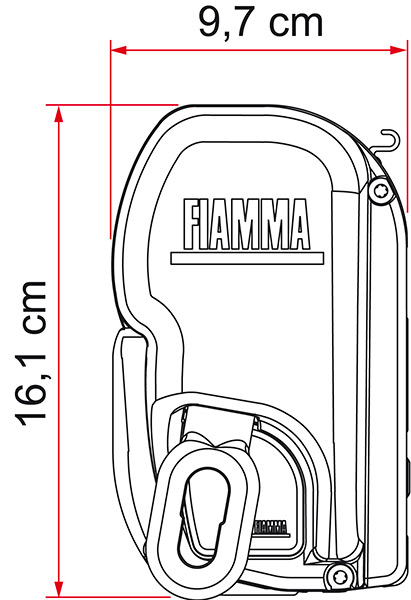 | | | | | | |
| --- | --- | --- | --- | --- | --- |
| Description | Awning length A | Height from ground B | Extension C | Shade surface | Weight |
| ZIP S 300 - Medium - Polar White | 306 cm | 225-250 cm | 250 cm | 7,1 m2 | 42,4 kg |
| ZIP S 350 - Medium - Polar White | 356 cm | 225-250 cm | 250 cm | 8,3 m2 | 46,3 kg |
| ZIP L 400 - Medium - Polar White | 406 cm | 225-250 cm | 250 cm | 9,6 m2 | 58,4 kg |
| ZIP L 450 - Medium - Polar White * | 456 cm | 225-250 cm | 250 cm | 10,1 m2 | 62,4 kg |
| ZIP S 300 - Large - Polar White | 306 cm | 251-280 cm | 250 cm | 7,1 m2 | 42,6 kg |
| ZIP S 350 - Large - Polar White | 356 cm | 251-280 cm | 250 cm | 8,3 m2 | 46,5 kg |
| ZIP L 400 - Large - Polar White | 406 cm | 251-280 cm | 250 cm | 9,6 m2 | 58,6 kg |
| ZIP L 450 - Large - Polar White * | 456 cm | 251-280 cm | 250 cm | 10,1 m2 | 62,6 kg |
* 1 Rafter and 1 Door Pole included