Gas it - Under slung Refillable Gas Tanks (20ltr to 70ltr)
Gas it - Under slung Refillable Gas Tanks (20ltr to 70ltr)
GAS IT range of vehicle specific LPG vapour tank kits, cover most brands and makes of Motorhome and Panel van manufactures.
Another very quick and easy to fit, self refillable gas tank from our GASIT EASYFIT© range.
GASIT EASYFIT© vapour out gas tank's fit direct underneath your vehicle freeing up vital space where your gas bottles would usually be, whilst also putting the high pressure gas out of harms way. GAS IT tanks can be filled at Autogas or LPG stations, anywhere in the world via the vehicles fitted LPG fillpoint.
Fitment of a EASYFIT gas tank to the vehicle is via the gas tanks own, pre-factory fitted fee, meaning you have a quick, safe and strong mounted gas tank. EASYFIT gas tanks from GAS IT are fitted by many vehicle manufactures in various market sectors in the UK due to their incredibly quick install speed using only a single installer. EASYFIT gas tanks require no separate straps, hoops or frames for mounting and fixing to a vehicle is simple as they only require 4 x M10 bolts & penny washers for fixing through the vehicles steel floor to comply with N1/M1 legal fixing requirements, or as an alternative on pre-installed wooden insulated floors we do sell OEM Chassis and Al-Ko brackets for a large range of vehicles. If your fitment choice is directly bolting the tank in place through a steel floor we always recommend this is done in a location where you can gain access to the bolts (with ease) at any time in the future. This is so the tank, which might need to be removed due to damage to it or when the vehicle goes in to a paint shop (Paint oven) or in 10 years' time when the tank needs retesting, can be removed without having to worry about lifting internal floors or fitted furniture. So if in the future you are unable to gain access to the bolts you fit ( when fitting a wooden floor over it for example ) we recommend using our GAS IT through floor mounting system which allows the tank to be removed at any time from under the vehicle so no internal access is neededs
All GAS IT horizontal vapour tanks (EASYFIT or Standard) are certified to the UK & EU R67 regulation.
EASYFIT© gas tanks come pre-valved, leak tested and with its own manufacturing and approvals certificate plus we sell them with our unique anti corrosion black powder coated protective aluminium valve protection air box.
In line with the N.C.C. CoP 306 and also the gas tank manufactures requirements, you must protect your GAS IT tank when mounting underneath the vehicle from mechanical damage caused by stones and road debris. A good quality rubberised underbody spray to help protect and prolong your gas tanks life, and the associated mounting system, from Stone chips and future rust must be applied on install.
Failure to protect the tank against stone chips and mechanical damage on install will invalidate any warranty on the tank and mounting system.
On completion, your installation will not only comply with the relevant road vehicle gas tank mounting regulations for the UK and Europe, EN1949, R67, NCC C.o.P. 306 but it will exceed their technical requirements.
As all GAS IT tanks are fitted with automatic excess flow valves in the inlet and outlets of the tank, It complies with the EN1949 regulations which states you do not need to fit a crash sensing regulator to run your gas whilst moving (assuming your gas appliance system its approved to be used whilst vehicle is in motion.)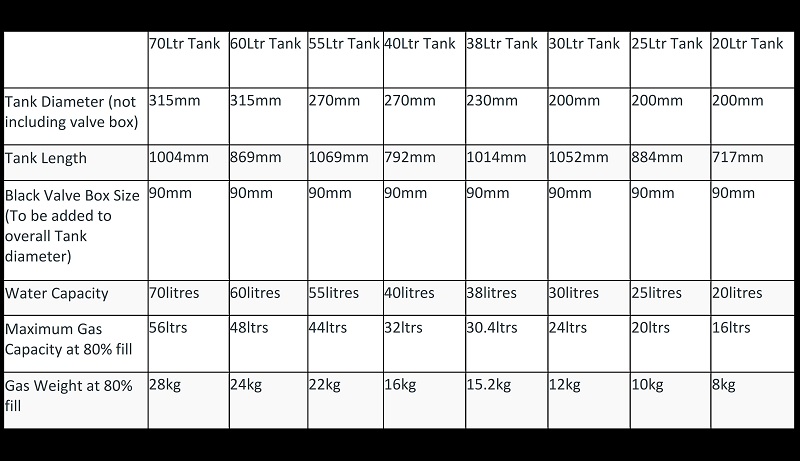 All GAS IT self refillable gas tanks are fitted with an automatic 80% float driven shut off filling valve, meaning it will automatically shut off the filling gas pump when the GAS IT tank becomes 80% full.
Fully EU approved.
The GAS IT OEM specification gas tank kit comes complete with:-
1x GAS IT fully valved tank with black powder coated airbox & factory fixed mounted feet.
1x OEM R67 approved high pressure filler hose.
1x SS hose to Regulator.
1x Body mount fill point system - Black or White Fill box & fill point.
1x Fill box OEM protector ring.
1x LED Contents Display
3x Filler Adapters for Europe
1 x LPG Safety Sticker for LPG tanks.
Please contact us regarding fitting as all motorhomes vary and depending on room available depends on what size tank can be fitted.