Crystop Autosat Internet & TV Systems 
Crystop Autosat Internet & TV Systems 
Need internet access in a vehicle with similar functionality to what they'd expect at home or at work, the AutoSat 2Si offers just that. This system gives reliable web access in almost every part of Europe and beyond.
Based on Crystop's AutoSat 2 satellite TV system, Autosat 2Si is simple to operate and can also be used to receive TV signals, although not at the same time. Additional hardware consists of a special 2-way LNB outside and a specially designed modem on the inside of the vehicle.
This system gives reliable web access in almost every part of Europe and beyond.
WATCH TV AND HAVE THE INTERNET AT THE SAME TIME.
Crystop have cleverly fitted the standard LNB using an offset bracket next to the iLNB, so it is possible to receive a satellite feed from ASTRA 28.2° East whilst also connected to the internet via ASTRA 23.5° East.
A contract with an internet service providers (ISP), e. g. IP copter or Broadband Everywhere is required to enable the broadband function. The range is set by the ISP. Tariffs and charges are available at:
Most Popular ISP's others are available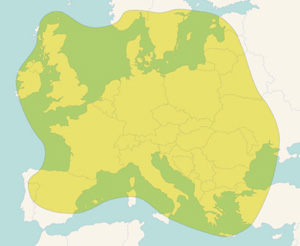 www.broadbandeverywhere.co.uk (yelllow footprint image above)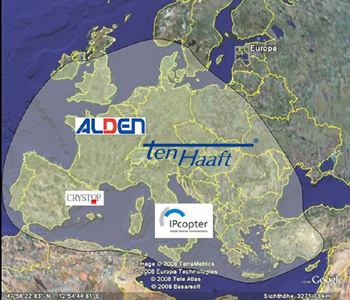 www.ipcopter.com (green/blue/grey footprint image above)
Specification
Operating voltage: 12V
Dish type: Off-set oval dish
Dish size: 85cm
L.N.B. type: Internet LNB and Universal TV (suitable for digital and analogue transmissions).
Typical search time – after first use: Less than one minute
Satellite search options: (available satellites will vary according to geographical location) Astra 2, Eurobird, Astra 1, Hotbird, Atlantic Bird 2, Atlantic Bird 3, Hispasat, Thor, Turksat, Hellassat, Astra 3A, Eutelsat W3, Sirius
Weight of dish & motor: 20 Kgs
Current consumption during search: Approx. 3 Amps
Current consumption when in use and search completed: 0 Amps
Other features: Auto-skew
Dish height when down: 23 cms
Warranty: 3 years
All our systems are completely 12volt with a wireless router giving you a hotspot inside your vehicle for all your mobile devices or alternately you can hardwire from the router.
A Twin LNB (Auto-skew) version is also available for SKY + and Recordable Satellite Receivers or x2 TV's at different locations.